SavaNet XBRL Intaglio allows users to create complete XBRL financial reports directly from their Microsoft Excel workbooks. Users start with one of several base industrial taxonomies which they can then customize by re-arranging line items and adding extension elements to exactly match the financial statements and disclosures of their financial report. Users can also enter in or reference the complete text of the report.
The Financial Professional's Choice for XBRL Report Creation
SavaNet Intaglio™ was developed by senior Wall Street equity analysts and finance professionals to be easily adapted by financial reporting officers and professional analysts' to work with nearly any company-specific reporting format. Intaglio makes XBRL report publishing easy "out of the box" yet also provides professionals with complete control and customization. Companies and analysts can even select whether individually tagged elements are published or not in certain reports to allow for the same source material to be used for different reports - from simple summary releases up to thousands of items for extremely detailed financial reports.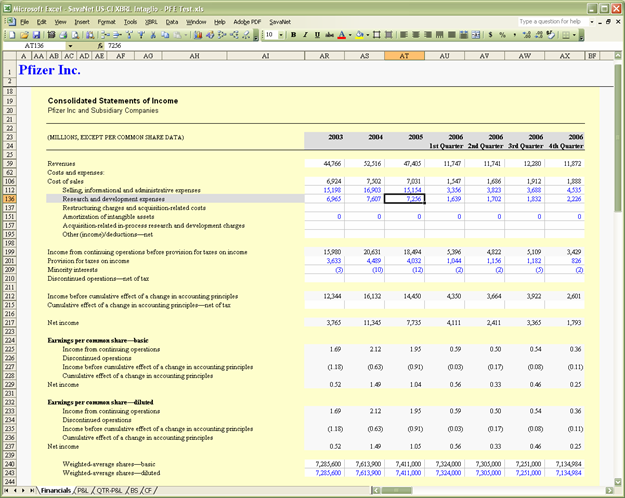 SavaNet Intaglio Creates "Super-charged" XBRL Versions of Spreadsheet Content
Although spreadsheets contain individually accessible values in cells, they are in non-standard formats (with the same values in different cells) and are difficult to externally retrieve data from when closed. Spreadsheets also do not describe cell content or link values with the metadata necessary for direct financial analysis such as value type, currency, scaling, business segments and reporting scenarios. In addition, spreadsheets have limited text editing functionality and thus generally don't contain the complete textual content of financial reports. This makes spreadsheets a poor means of exchanging financial information. SavaNet Intaglio solves these issues by creating an XBRL version of spreadsheet content which…
"Tags" all individual values using XBRL "elements" which have complete analytical metadata
Defines the calculation relationships with other values in the spreadsheet
Also incorporates the complete, fully formatted textual content of financial reports
Allows recipients of reports to directly access, display, export and store only the information of interest to them
By linking Intaglio-enabled spreadsheets to other updated spreadsheets, financial report publication in XBRL format can be automated after the templates have been set up.
SavaNet XBRL Intaglio Reports Use an Open, Completely Searchable, All-In-One Document Format
SavaNet XBRL reports use an all-in-one document format that can be used to replace spreadsheet, PDF, and HTML versions of documents. Because XBRL is an XML-based text file format, the report content can be externally searched and accessed by a variety of applications across operating system platforms. The direct search and access of individual content items helps reduce user information overload and allows them to find exactly what they need in the data deluge.
SavaNet XBRL Intaglio is available for institutional client sale only. Contact SavaNet for pricing and demonstration.